Best Fusion Cuisine
in Watkinsville
Chef Jose opened Girasoles on April 15, 2004.
Girasoles (pronounced here-ah-SO-lays), a small Mexican-Mediterranean fusion restaurant in Watkinsville, GA, about 10 miles outside of Athens, is serving up innovative meals with high-quality ingredients. Owner Chef Jose Zambrano finds ways to ingrain his restaurant firmly in this small community of 2,000 people, drawing in loyal customers with not only his delicious menu, but also an overwhelming sense of hospitality.
Chef Zambrano's education in food was entirely hands on, at the sides of some of the best chefs in California.
Schooled primarily in the French tradition, which was some of the most popular cuisine of the times, Chef Zambrano's talents led him to work for the Hilton Hotel chain, first in Newport Beach, and later in Beverly Hills.
From there, he moved to Georgia to open his first restaurant.
Girasoles opened in 2005, following on the heels of two of his past successes in Athens, La Estrella and Zambrano's.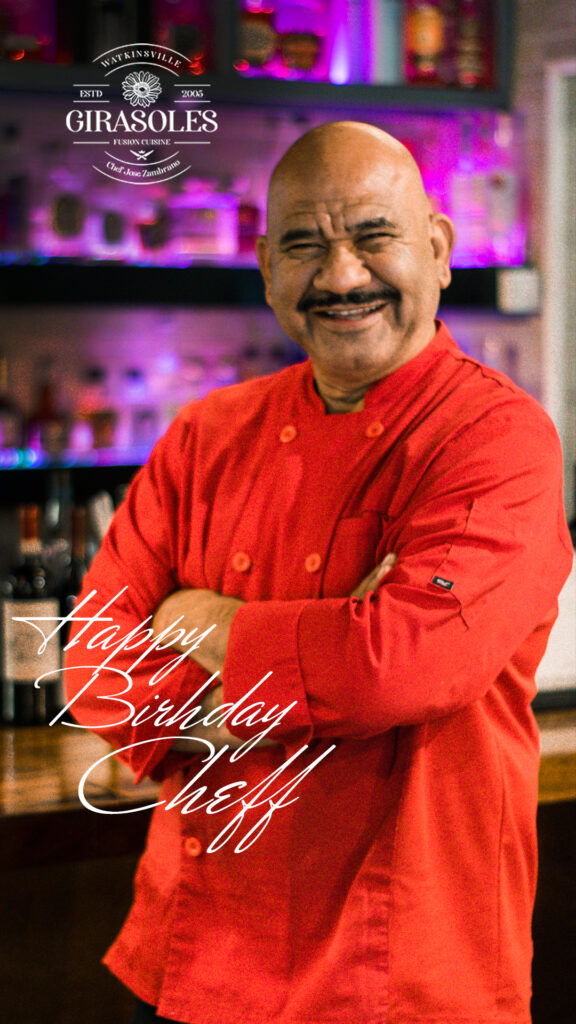 The current trend toward fusion cooking has helped customers open up to Chef Zambrano's way of looking at food. "People now are open to trying new tastes, new flavor combinations," said Chef Zambrano. The cuisine at Girasoles is described as a creative mix of flavors, a combination of Mexican and Mediterranean, the joining of which comes quite naturally, Chef Zambrano says.
"It's like a marriage between two different cultures," said Chef Zambrano. "These traditions marry well, because they are both strongly flavored, but ultimately are very light. They complement each other."
Chef Zambrano's firm belief in using only the freshest possible ingredients also aligns his restaurant with a current trend toward using the best of what is local and in season. "Everything here is fresh. We don't even have a microwave in this restaurant.
We never use processed vegetables or ingredients."
For Chef Zambrano, extending so much hospitality to his guests is more than a business trend; it is a basic philosophy and a way of keeping his business footing in the community, even as the economy tightens belts for both the restaurateur and the consumer.
By Jaymi Curley (September 2008)
Your Finest Restaurant Served Next Door!
Dinner Hour
Monday Closed
Tuesday - Saturday 5:00 to 10:00 pm
Sunday 11:00am to 2:00pm
Welcome to Girasoles. in the heart of Watkinsville..
Monday Closed
Tuesday to Saturday 5 to 10 pm
Menus subject to change.
– Book a Catering –
706-310-0410
Open 11 am – 2 pm
New selections Weekly 
I loved this restaurant in the past then along came the pandemic and I didn't go out to eat anywhere for a while. Saturday was Rhonda's birthday and we felt a celebration meal was in order giving us a chance to revisit Girasoles. The food and service are the draw here and both were still excellent. Chef Jose offers a great fusion menu and, as he has done in the past, he accommodated our request for an off-menu appetizer (Cajun Shrimp - try it if you get the chance). Highly recommended.
You will not find another Chef with a bigger heart and a love for food! Food is mouthwatering. Atmosphere is fantastic. Service is phenomenal. 10/10 recommend! Does not even compare to surrounding restaurants!
It's a real treat to go to see Chef Jose. Brunch is unbelievable. Go check it out for yourself. You won't be disappointed.
We were looking for Sunday brunch when I remember my son taking me to this place before. My friends and I had a fabulous meal. The lunch bar had generous choices of meats, vegetables, salad, and a dessert selection that was decadent. The make-to-order breakfast buffet was the highlight. The owner/chef was delightful and fun making every breakfast dish you can think of…eggs and bacon on Texas toast, French toast, omelets, waffles, crepes filled with fresh fruit…you name it; the Chef makes it!! Service was fast and friendly. The front dining area got a little smoky from the grill, but it was cleared out right away. Girasoles is not the cheapest place in town to eat, but if a quality meal is what you want- you will get what you pay for, and it's worth it!!
Catering & Specials Events
Chef Jose's Catering provides a variety of menu specialties
and guests requests to cater weddings, rehearsal dinners, luncheons, corporate events, birthday parties or private events. Just as Chef Jose cooks each meal in the restaurant to your liking, he will gladly work with you to prepare a menu of delicious entrees, tapas, salads and desserts for your event menu. Catering events for private parties of 10 or grander parties of over 300, nothing is too small or too big of a party for Chef Jose! Please call to inquire about pricing per head and a customized menu
for your event.
«Jose personally helped design the menu for several professional events. The menu is always delicious, salads fresh and desserts tasty. You don't have to worry about getting a dull casserole from Jose at Girasoles. He also caters to the needs of guests who have food allergies and picky palates. After many delicious meals in the excellent atmosphere of the
restaurant, I highly recommend Girasoles
in Watkinsville, GA to everyone.»
«Jose personally helped design the menu for several professional events. The menu is always delicious, salads fresh and desserts tasty. You don't have to worry about getting a dull casserole from Jose at Girasoles. He also caters to the needs of guests who have food allergies and picky palates. After many delicious meals in the excellent atmosphere of the
restaurant, I highly recommend Girasoles
in Watkinsville, GA to everyone.»
«Jose personally helped design the menu for several professional events. The menu is always delicious, salads fresh and desserts tasty. You don't have to worry about getting a dull casserole from Jose at Girasoles. He also caters to the needs of guests who have food allergies and picky palates. After many delicious meals in the excellent atmosphere of the
restaurant, I highly recommend Girasoles
in Watkinsville, GA to everyone.»
24 Greensboro Highway Watkinsville, Ga 30677